About SJRF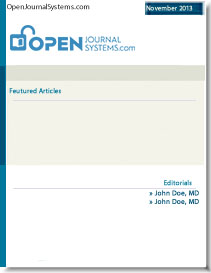 SJRF Surgical Journal for Residents and Fellows (SJRF) is an open access, peer-reviewed international journal that will consider any original scientific article that expands the field of surgery. The journal publishes articles in all surgical specialties of interest to surgeons, physicians and researchers.
Manuscripts must be original and shown to be both clinically and educationally interesting to an international audience. SJRF goal is to promote the art and science of surgery by publishing relevant peer-reviewed clinical and basic science information to assist the surgeon in optimizing patient care.
Any visitor to this site can browse the abstracts but to read the contents and download the PDF files, you need to be a registered user and log in. Registration is free and your contact information will only be used to inform you when a new issue is published.
Announcements
In order to protect the integrity of our peer-review process, we are introducing new submission, withdrawal, and fast-track review policies.
As a Peer-Reviewer, you will play a crucial role in helping SJRF select and publish the best research in our field. Register in 5 minutes.
Vol 1, No 1 (2013)
Table of Contents
Articles
| | | |
| --- | --- | --- |
| | Mauricio Szuchmacher, Neil Parikh, Sneha Iyer, Chirag Dave, Manvinder Dhillon, Alejandro Franco | |